Breast lift surgery with implants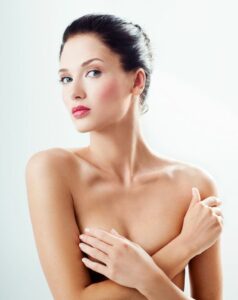 Women who are in need of a comprehensive breast appearance makeover may benefit from a combination of breast augmentation and breast lift surgeries. It is best to have these procedures performed together for several reasons.
During your initial consultation, your surgeon will explain to you the pros and cons of a combined breast procedure to help you make a poignant decision. Board certified plastic surgeon Dr. Gary Motykie provides breast augmentation with lift to patients in Beverly Hills, West Hollywood, Los Angeles, and surrounding communities.
Benefits of a Combined Surgery
You can improve both size and shape of breasts
Breast augmentation cosmetic surgery will add fullness to the upper pole of your breasts through placement of saline or silicone implants. If you are looking to enhance cleavage or correct asymmetry, it can be done with this procedure.
In addition to more voluptuous looking breasts, if you need to elevate sagging breasts to a firmer, more youthful level, you can benefit from a breast lift. In other words, for a comprehensive cosmetic transformation of your breasts, a combined surgery will help rather than an individual breast implant or breast lift procedure.
You only go through one preparation and recovery period
Recovery is integral to any breast surgery procedure. When you combine breast augmentation with lift, you will go through a recovery phase only once. The recovery process would be quite similar to what you would go if you only chose a single procedure, whether breast lift or breast implants.
Apart from saving time and hassle, you will also go through the temporary soreness, swelling and bruising only once with a combination surgery. Even the pre-operative preparation is vital for any major surgery.
Focusing on your diet, avoiding certain medications and adjusting the schedule of ongoing prescription drugs, taking time off from work, hiring a caregiver if necessary, and preparing your home for recovery are some of the key elements of your preparation process. With breast augmentation with lift plastic surgery, you go through this process only once.
More cost-effective
It may appear counter-intuitive, but when you combine breast lift and breast augmentation as one procedure, you will pay for the surgeon's fee, anesthesiologist's fee, surgery room costs, and post-op care only once. Compared to that, if you go through breast lift and breast implant surgeries separately, you will end up repeating all these processes and costs twice.
Limitations of a Combined Procedure
Breast implants with lift is a relatively more invasive procedure compared to a single surgery. The surgery will take more time in the operating room because the surgeon will not only place the implants, but also reduce the excess breast skin and tighten the tissue.
Depending on the surgical technique chosen, a combined procedure may involve slightly more scarring because of multiple incisions. Most importantly, you will only need to work with an experienced and highly skilled plastic surgeon who understands the intricacies of a combined procedure, and can minimize the incisions and risks.
Cosmetic surgeon Dr. Gary Motykie receives patients from Beverly Hills, West Hollywood, Los Angeles, and nearby areas for breast lift with implants surgery.
Click here for Virtual Consultation
To see more services and treatments provided by Board Certified Plastic Surgeon, Dr. Motykie in Beverly Hills | Los Angeles | West Hollywood and his team please visit: