Breast lift surgery with implants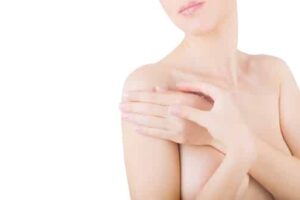 Breast lift and breast augmentation both rank among the most popular cosmetic surgery procedures in the US. But some women may experience both loss of breast volume and sagging breast tissue, which requires a combination of both these surgeries to correct the breast appearance.
Your surgeon will evaluate your breast anatomy along with your personal aesthetic goals at the time of initial consultation. Based on your needs, they will determine whether you are a fit candidate for breast lift surgery with implants.
Board certified plastic surgeon Dr. Gary Motykie provides breast augmentation with lift to patients in Beverly Hills, West Hollywood, Los Angeles, and surrounding locations.
Candidacy
Breast implants with lift plastic surgery is usually appropriate for women in the age group of 40 and above who are unhappy with their smaller as well as droopy breast appearance. But some younger women may also benefit from this surgery, if they experience the same conditions following pregnancy or a substantial weight loss.
Heredity is another factor that may require a woman to undergo breast augmentation with lift at a relatively younger age. You should consider the following signs to see if you might be a candidate for this surgery:
Your breasts are sagging and have lost volume and shape

Your breasts are pendulous, or have an elongated, flatter shape

Without support, your nipples tend to sag under the breast crease

Your nipples and areolas are pointing downward

Breasts are asymmetrical
Benefits of a Combined Procedure
Breast lift with breast augmentation has several advantages for the right candidate:
Safety profile of a combined augmentation and lift is as good as that of a single surgery

The surgeon can use common incisions to perform both procedures, which will reduce scarring

Less degree of lifting will be required because the implants will help fill out the breasts

You will go through general anesthesia, surgery

,

and recovery only once for the dual procedure
According to researchers, recovery, side effects, and potential risks are not very different, whether you choose a single breast surgery or a combined procedure.
Surgical Procedure
Following general anesthesia, your procedure will begin with the surgeon placing discreet incisions beneath the breast crease or around the areolas to perform breast augmentation and lift.
Once the breast pocket is created, the saline or silicone implants will be placed above or below the pectoral muscle. The incisions and implant placement will be done according to the pre-determined customized surgical plan.
Following the implant placement, the surgeon will excise the loose breast skin and tighten the tissue to provide a subtle lift to the breasts. If significant breast skin reduction and reposition of nipples and areolas is required, the surgeon may first perform the breast lift and then place the implants.
Once both the procedures are completed, the surgeon will close the incisions with sutures. They will wrap the incision sites in bandages for the first one or two days. Once the bandage is removed, you will be required to wear a surgical bra for a few days.
Cosmetic surgeon Dr. Gary Motykie receives patients from Beverly Hills, West Hollywood, Los Angeles, and nearby areas for breast lift with implants surgery.
Click here for Virtual Consultation
To see more services and treatments provided by Board Certified Plastic Surgeon, Dr. Motykie in Beverly Hills | Los Angeles | West Hollywood and his team please visit: