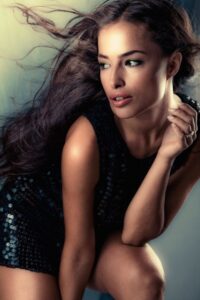 Advanced and cost-effective hair restoration techniques are now available for both men and women who suffer from hair loss and hair thinning. PRP hair restoration and SmartGraft are two such cutting edge solutions for hair re-growth.
The prudent board certified plastic surgeon  Dr. Gary Motykie provides both PRP hair restoration and SmartGraft to suitable candidates in Beverly Hills, West Hollywood, Los Angeles, and surrounding locations across the landscape.
PRP Hair Restoration
Hair thinning and hair loss due to hypotrichosis, male or female pattern baldness, alopecia totalis, or alopecia areata was once believed to occur because of dead hair follicles on the scalp. However, specialists now understand that these follicles may merely be unproductive, wounded, or dormant rather than dead.
Dr. Motykie's practice is equipped to provide fuller, thicker, and healthier hair growth through the use of the innovative Platelet Rich Plasma (PRP) hair restoration treatment.
Effectiveness of PRP-Based Hair Restoration Treatment
The cutting-edge PRP-based hair restoration procedure harnesses the robust growth factors contained in platelets which are a type of blood cell. This helps in the healing of hair follicles that were earlier unproductive. These growth factors trigger adult stem cells found in the follicles once they are isolated and activated.
This prompts the localized growth of cells and produces new blood vessels at the follicle. It ensures that the follicles get the oxygen and hydration vital for the growth of hair.
PRP-based hair restoration treatment is a nonsurgical and minimally invasive procedure. The treatment involves taking a small amount of blood from the patient that is subsequently processed in a centrifuge to isolate the PRP and activate the required growth factors.
The patient's scalp is numbed using a local anesthetic. After numbing the scalp, PRP is delivered via injections into the treatment site. The provider uses a very fine-gauge needle to deliver the PRP in a matrix pattern with a focus on the scalp areas with the most severe hair loss.
A majority of patients will experience fuller, thicker, healthier hair in up to two months following the initial treatment. But outstanding or impressive outcomes typically manifest within four to eight months of the treatment and will continue to enhance for up to one year. A few patients may need multiple PRP-based hair restoration sessions to accomplish their desired hair growth.
SmartGraft Hair Restoration
SmartGraft is a hair restoration option that does not involve the use of a scalpel or an invasive cosmetic surgery procedure. This is a superior hair restoration technology that provides various advantages to patients considering a permanent and natural solution for hair restoration:
This treatment is performed in-office using local anesthesia:
Minimal downtime

Negligible discomfort

No linear scarring

Natural hair re-growth

Permanent outcomes

No 'buzz cut' necessary
The SmartGraft device can excise hair grafts in a more targeted manner. Furthermore, various processes associated with these grafts such as storing, counting, sorting, and moistening can be done in an entirely automated fashion.
The process of moistening decreases the time taken to perform the procedure and enhances the rate of success of the implanted grafts. Patients experience healthier and fuller hair re-growth with permanent outcomes.
Only one session of the SmartGraft procedure is necessary to obtain desirable outcomes. The treatment is undertaken in-office under only local anesthesia. Experienced cosmetic surgeon Dr. Gary Motykie receives patients from Beverly Hills, West Hollywood, Los Angeles, and other suburbs and cities in this part of California for hair restoration.
Click here for Virtual Consultation
To see more services and treatments provided by Board Certified Plastic Surgeon, Dr. Motykie in Beverly Hills | Los Angeles | West Hollywood and his team please visit: