Thigh Lift Surgery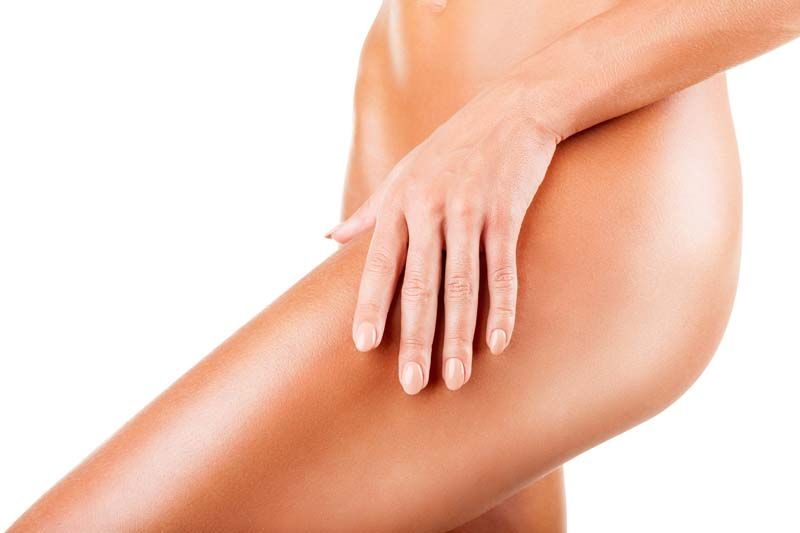 Sagging skin, unsightly cellulite, and excess fat deposits in the upper legs can compromise your overall body proportion and looks. Fortunately, these conditions can be successfully corrected with a thigh lift cosmetic surgery. At your initial consultation for this procedure, make sure to be proactive and ask questions from your surgeon about all aspects of a thigh lift.
A committed surgeon will make every effort to educate you and help you in making a well-considered decision. They may also present thigh lift surgery before and after photographs before you at the first consultation. Board certified plastic surgeon Dr. Gary Motykie provides thigh lift surgery to patients in Beverly Hills, West Hollywood, and Los Angeles, and surrounding communities.
What are Thigh Lift Before and After Images?
Before and after photos for a plastic surgery procedure such as thigh lift serve two purposes. Prior to your procedure, the surgeon's team will photograph you with your consent and keep these photos as part of your confidential medical records. Once the surgery is completed, your surgeon may request you to consent for new photographs of your treated sites at different stages of the healing process.
Now you can easily compare how your thighs and upper legs appeared before the surgery and after the surgery. Many patients feel more satisfied about their procedure once they are able to visually compare their pre-surgery and post-surgery pictures. The second purpose that thigh lift before and after images may serve is to educate other patients.
Now these images for a thigh lift are not on the website but this does not mean the website cannot be updated whenever the clinic decides that's the proper course of action. But for now, you will have to check out these images during the consultation which is mandatory anyway.
Some patients agree to have their before and after photos shared with new patients, so that they can understand the estimated results of a thigh lift. At your pre-op consultation, you may also be shown pictures of other patients so that you can make a poignant choice about your planned thigh lift surgery.
Why is it Important to Review Before/After Thigh Lift Photos?
You may have a number of concerns when you are considering whether or not to undergo a thigh lift surgery. Any plastic surgery procedure is a major, life-altering decision, and you need to be fully aware and confident about the choices you make. You may wonder how your overall figure will change after a thigh lift, and whether the procedure will actually deliver the kind of results you have in mind.
Depending on your goals, your surgeon may recommend an outer thigh, inner thigh lift, or both. Sometimes they may suggest a thigh liposuction, or a buttock lift along with a thigh lift surgery. When you have access to thigh lift before and after pictures of past patients, you will be in a much better position to make the right choices for your surgery.
Dr. Motykie does not have a successful clinic because of an accident or because of his amazing marketing skills. His clinic is successful because he builds trust with patients and he's cordial with people even if they decide to refrain from any commitment at this point. Many politicians are not transparent but in the plastic surgery industry, transparency is critical.
Sharing Images on Instagram or Facebook
Your surgeon has an option to share thigh lift before and after images on social media photo sharing platforms such as Instagram, Pinterest, or Facebook, while maintaining the norms of patient confidentiality.
Surgeons may also use Instagram Stories and similar other innovative social features to increase awareness and educate people about a thigh lift surgery. Cosmetic surgeon Dr. Gary Motykie receives patients from Beverly Hills, West Hollywood, and Los Angeles, and nearby areas for thigh lift surgery.
Contact Beverly Hills Board Certified Plastic Surgeon Dr. Gary Motykie to Schedule a Consultation
Click Here for Virtual Consultation
Click Here to Schedule a In Office Consultation
To see more services and treatments provided by Board Certified Plastic Surgeon, Dr. Motykie in Beverly Hills | Los Angeles | West Hollywood, CA and his team please visit: