IV Therapy Treatments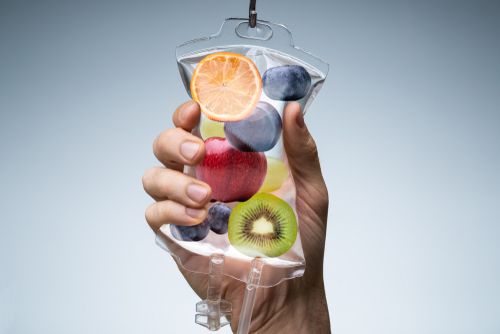 Intravenous (IV) therapy is a proven and effective way to deliver vital nutrients directly into your bloodstream for immediate health benefits. The vitamins, minerals, and other special nutrients will bypass your digestive system, and quickly reach all the major organs of your body for rapid and maximized benefit.  
IV therapies ensure minimal waste and maximum absorption of the nutrients, and the targeted vitamin and supplement infusion will reach the cells that are in most severe need of nutritional and medicinal support. You will not only feel re-energized and rejuvenated, but will also achieve stronger immunity to fight infections and illnesses.  
Motykie Med Spa, led by board certified plastic surgeon Dr. Gary Motykie, provides a wide range of IV therapy treatments to patients in Beverly Hills, West Hollywood, Los Angeles, and surrounding locations. 
IV Therapy with High Dose Vitamin C 
L–ascorbic acid or vitamin C is a key ingredient for your body's daily needs. You can only obtain it through food or supplements because your body does not natural produce it. Motyie Med Spa's Vitamin C based IV therapy will help you fight oxidative stress and will collaborate with enzymes to generate new collagen to rejuvenate your skin.  
IV Therapy with Alpha Lipoic Acid (ALA)
Alpha-lipoic acid (ALA) is a robust antioxidant, which is found in certain vegetables and yeast. The compound can be formulated for medicinal purposes in a lab. If you have numbness or neurological pain in the limbs or suffer from diabetes, you can benefit from this IV therapy at Motykie Med Spa.  
IV Therapy with Glutathione
Glutathione is a unique antioxidant present in every cell of your body. Various molecules of this antioxidant are combined together as amino acids. They deliver proteins to your different body organs and energize you.  
Glutathione IV therapy at Motykie Med Spa provides a number of health benefits for the right candidates. 
Myers' Cocktail IV Therapy
Myers' Cocktail is a safe and highly popular IV therapy at Motykie Med Spa designed to mitigate chronic symptoms, such as muscle pain, stress, fatigue, and inflammation. The IV treatment offers an innovative mix of hydration and multivitamins aimed at providing multiple health benefits. You can achieve enhanced immunity, relief from migraines, anxiety issues and muscle cramps with Myers' Cocktail IV therapy. 
Enhanced Wellness with IV Therapies
The customized IV therapies at Motykie Med Spa are not only designed to enhance your physical well-being, but also certain elements of your emotional wellness. You will be in a better position to combat physical diseases as well as mental health conditions such as anxiety or depression following customized IV therapy treatments at Dr. Motykie's medical spa.  
The goal of these intravenous infusion treatments is to restore the ideal balance of vitamins and minerals is essential for proper bodily functions. It will help ensure that you feel better instantly, fall sick less often, and experience mental and emotional wellness.  
Nutrient based IV therapies are a quick and convenient way to provide your body the support it requires to keep you feeling healthy and vibrant all year round. Motykie Med Spa receives patients from Beverly Hills, West Hollywood, Los Angeles, and nearby areas for IV therapy treatments.  
Contact Beverly Hills Board Certified Plastic Surgeon Dr. Gary Motykie to Schedule a Consultation
Click Here for Virtual Consultation
Click Here to Schedule a In Office Consultation
To see more services and treatments provided by Board Certified Plastic Surgeon, Dr. Motykie in Beverly Hills | Los Angeles | West Hollywood, CA and his team please visit: