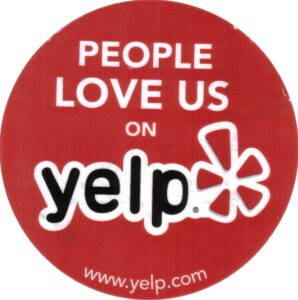 The Yelp sticker is a accolade designed to be akin to a high Zagat rating. That means that you can't order a "People Love Us on Yelp" decal for love or money. Instead, we earned them from our high rankings on Yelp.
See what patients had to say about Dr. Motykie on Yelp:
"Saw Dr. Motykie again today and I am so Happy I chose him for my reconstructive surgery! I know he will give me the result I've been seeking for over 20 years! He's very kind and compassionate, he listens, and he truly cares. As much as I'm not looking forward to another surgery, I am looking forward to this one with Dr. Motykie. Sandi and Diana are truly amazing as well!!! Very compassionate team!" – Theodora M.
"Dr. Motykie is gifted.  He is professional, listens, and despite being young and on TV he really is an amazingly gifted surgeon.  He has done two different surgical procedures on me-one was a fix on a botched job from 6 years ago and another cosmetic procedure on my face.  He knows what he is doing.
I do not know of anyone who can hold a candle to Dr. Motykie.  I hope to continue my "maintenance" for years to come with this excellent surgeon.  Don't go anywhere else-this is the place for excellent work and service." – Gigi B.
Click here to read more patient reviews on Yelp