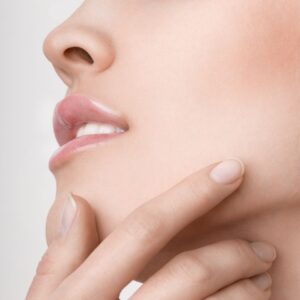 While there are several effective treatment options for cheek enhancement, two of the most sought-after are cheek implants and dermal fillers made of hyaluronic acid.
Juvederm Voluma XC is designed specifically for the cheek region and is one of the longest-lasting dermal fillers available on the market. Both treatments have their advantages and limitations for cheek enhancement. However, they are recommended for distinct reasons.
Cheek implants permanently augment the underlying facial structure. They are usually made out of silicone (although there are implants comprising other materials available) and are inserted surgically.
Implants alter facial contours and appearance, creating permanent enhancement. This can improve facial balance or develop a "high cheekbone" look in patients who are unhappy with their facial aesthetics.
On the other hand, Juvederm Voluma XC is a temporary treatment that corrects the effects of aging but does not impact the facial structure. Fillers can immediately improve facial fullness loss and necessitates only a quick injection session.
The results can sustain for up to two years. They do not alter the facial structure but can restore and rejuvenate youth to the cheek region in a non-surgical manner. Patients appreciate that there is negligible downtime with Juvederm Voluma XC. Due to this, the treatment is ideal for even the busiest people.
Board certified plastic surgeon Dr. Gary Motykie provides cheek enhancement procedures to patients in Beverly Hills, West Hollywood, Los Angeles, and surrounding locations.
Which is more Appropriate for You? Cheek Implants or Fillers?
Understanding the differences between the two treatments can make it easier for patients to understand which option is suitable for their needs. Below is a quick checklist:
Ideal candidates for cheek implants are:
Younger patients

Individuals who want to alter their facial structure permanently

Those who do not want to undergo the procedure repetitively

Patients who are prepared to receive surgery and undergo the healing process

Those whose cheek enhancement objectives are for facial balance and cosmetics, rather than anti-aging
Suitable candidates for Juvederm Voluma XC or another filler are as follows:
Unhappy with the signs of aging-related fullness in the cheeks

Patients who do not want surgery or do not have time for downtime

Patients who want to restore lost fullness in their cheeks, not add more volume

People who are willing to undergo maintenance procedure for continuing enhancement

Patients who have health conditions that make surgery inadvisable
Making the Decision
Patients get immediate results with fillers and implants. Ultimately, the procedure that is most appropriate for a specific person will depend on their preferences regarding:
Aesthetic goals

Recovery time

Number of treatments

How long they want the results to last
It is also vital to remember that facial implants are costlier than fillers as these implants offer lifelong results and because the procedure to place the implants involves surgery. The patient can consult a facial plastic surgeon to discuss costs.
Still Not Sure? Talk to Your Surgeon
Every person has a unique situation. It is perfectly fine to be unsure about which treatment is appropriate. In fact, it is ideal to keep an open mind when initially consulting a facial cosmetic surgeon.
The surgeon will be able to assess the patient's individual case and offer personalized recommendations about their treatment. A specialist will have the experience to help the patient decide between cheek fillers or implants on the basis of their goals, lifestyle, and medical condition.
Cosmetic surgeon Dr. Gary Motykie receives patients from Beverly Hills, West Hollywood, Los Angeles, and nearby areas for cheek enhancement procedures.
Click here for Virtual Consultation
To see more services and treatments provided by Board Certified Plastic Surgeon, Dr. Motykie in Beverly Hills | Los Angeles | West Hollywood and his team please visit: