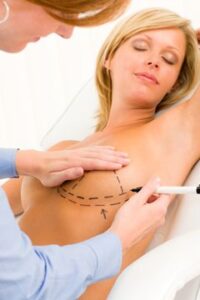 Augmentation mammaplasty, commonly known as breast augmentation surgery, is a plastic surgery procedure designed to enhance the size, volume and fullness of breasts. Dr. Gary Motykie is a board certified plastic surgeon providing this surgery to patients in Beverly Hills, West Hollywood, Los Angeles, and surrounding areas.
Suitable Candidates
Not every patient who desires to have breast augmentation cosmetic surgery may be a suitable candidate for the procedure. Dr. Motykie will assess the patient's general health, previous surgeries, breast anatomy and her unique aesthetic goals before recommending this procedure. In most cases, the cosmetic surgeon may recommend this procedure for patients who experience one or more of the following conditions:
Patient has a naturally small size of breasts.
Patient is keen to increase breast size, even when the natural breast size is normal.
Patient has lost breast volume following pregnancy, breast feeding or major weight loss.
One breast is smaller than the other.
Breast tissue is lost during mastectomy or following a traumatic injury.
Dr. Motykie makes sure that his patients in Beverly Hills, West Hollywood, Los Angeles and nearby communities are properly educated about all aspects of the procedure. It is important that the patient has clear goals, positive outlook and realistic expectations, which will help achieve the best outcome in the end.
Breast Implants
Breast augmentation plastic surgery is a fairly customizable procedure because of multiple options available for breast implants. Implants are saline and silicone gel based, and both options are approved by the FDA. Patients can also choose among various sizes, shapes, and textures available for breast implants. The standard size range of implants is between 120cc and 960cc, and the shapes can be round or tear-drop. The plastic surgeon can recommend the most appropriate options in consultation with the patient.
Surgical Procedure
Breast augmentation surgery is typically performed under general anesthesia or IV sedation. The cosmetic surgeon will begin the procedure by making an incision in a pre-determined location to keep the scars as discreet as possible. The incision may be made around the areola, below the breast curve, in the underarm, or around the navel. The implant can be placed between the breast tissue and chest muscle or under the chest muscle. In some cases, the breast augmentation procedure may be performed in combination with breast lift cosmetic surgery.
Recovery and Results
Breast augmentation is usually performed as an outpatient surgery, and the patient should have someone to drive her back home and stay over for the night. Most patients will experience mild pain and discomfort in the first few days, which can be managed with pain relieving medications.
Patients can go back to work within 10 to 14 days, and resume their regular daily activities. However, vigorous activities should be avoided for at least one month. Results of the procedure will become fully visible as the swelling and bruising resolves. The results are usually long lasting, providing the plastic surgery has been performed by an experienced and qualified surgeon.
To see more services and treatments provided by Dr. Motykie and his team please visit: