Thigh Lift Surgery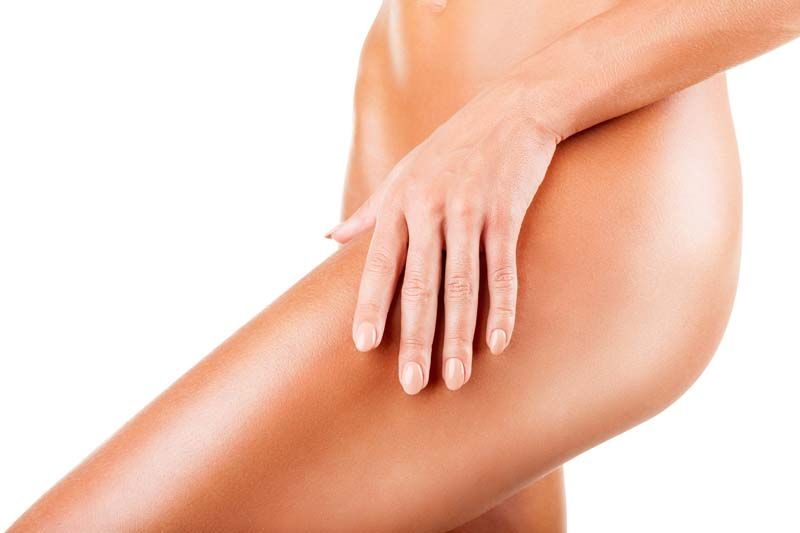 Upper legs are often one of the more troublesome areas from an aesthetic viewpoint, especially for women. With age, the skin in the thigh region may become loose and stubborn cellulite and fat pockets may develop, making your lower body appear heavier and older in proportion to your upper body.
If you feel self-conscious about your thigh appearance or avoid wearing tight fitting or short clothes because you don't want your thighs to attract attention, you could benefit from a thigh lift cosmetic surgery. Thighplasty or a thigh lift is a time-tested procedure that has helped thousands of women and also some men get rid of excess skin tissue and fatty deposits in the upper legs and restore a more refined and toned lower body appearance.
Board certified plastic surgeon Dr. Gary Motykie provides thigh lift surgery to patients in Beverly Hills, West Hollywood, and Los Angeles, and surrounding locations.
Who is a Suitable Candidate?
A thigh lift is an excellent choice for people who want to achieve a trimmer and more proportionate look in their lower body. However, not everyone may be a candidate for this plastic surgery. During your initial consultation, your surgeon will carefully evaluate several aspects to determine whether you qualify for a thigh lift. In general, you may be best suited to receive a thigh lift surgery if:
You are bothered by the appearance excess soft tissue and loose skin along your thighs. If your thigh condition has proved resistant to diet and exercise, then a thigh lift surgery may be an ideal option for you.
You have a stable and moderate body weight and do not plan to undergo a weight loss program in the foreseeable future. Losing further weight after your thigh lift can cause the skin tissue in the thighs to sag once again, reversing the benefits of surgery.
You are in good health condition, and do not suffer from any such active illness that may interfere with your surgery or recovery. You should also be cleared for general anesthesia, if your thigh lift will involve this procedure.
You should be willing to stop smoking for at least a few weeks before and after your thigh lift plastic surgery as directed by your surgeon. Nicotine in the cigarette smoke can increase your risk of surgery and also delay the post-op recovery process.
You are in decent emotional and psychological health. All cosmetic surgery procedures can take some toll on you physically and emotionally, and you should have a positive mindset and mental resilience to undergo the procedure successfully.
You have realistic expectations from the results, and are well aware what a thigh lift can or cannot do for you. You should also be committed to maintaining a balanced diet and active lifestyle post-surgery and be aware that a surgery is not a substitute for these efforts.
Your plastic surgeon will take into account various factors to determine whether a thigh lift is the right procedure to meet your goals. Cosmetic surgeon Dr. Gary Motykie receives patients from Beverly Hills, West Hollywood, and Los Angeles, and nearby areas for thigh lift surgery.
Contact Beverly Hills Board Certified Plastic Surgeon Dr. Gary Motykie to Schedule a Consultation
Click Here for Virtual Consultation
Click Here to Schedule a In Office Consultation
To see more services and treatments provided by Board Certified Plastic Surgeon, Dr. Motykie in Beverly Hills | Los Angeles | West Hollywood, CA and his team please visit: