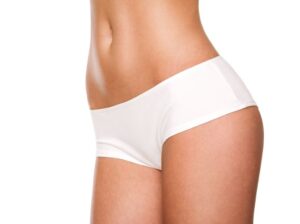 Abdominoplasty, commonly known as tummy tuck, is a plastic surgery procedure designed to restore a tighter, firmer abdomen by removing excess skin and repositioning loose abdominal muscles. During the initial consultation, the surgeon will discuss all aspects of tummy tuck, and may also present tummy tuck before and after photographs before the patient.
The surgeon's first priority will be to ensure that the patient fully understands the potential effectiveness of tummy tuck and makes a well-considered decision. Dr. Gary Motykie is an experienced cosmetic surgeon providing tummy tuck to patients in Beverly Hills, West Hollywood, Los Angeles, and surrounding communities.
What are Tummy Tuck Before and After Pictures?
Before and after pictures in case of tummy tuck plastic surgery refer to a pair or group of images pertaining to an earlier patient who has undergone the same surgery with a successful outcome. The images include pictures taken before the surgery and after the surgery at a stage when the post-operative swelling and bruising has been resolved and full effects of tummy tuck are established.
The surgeon will take care to ensure that the photographs are obtained with the patient's prior consent, and shown to new patients in a discreet manner. The patient's identity may be kept confidential as required. The surgeon's goal in this exercise is to educate new patients about various aspects of tummy tuck surgery and enable them to make an informed choice.
Website photos will be mentioned again in this page but what should be pointed out is the advent of digital technology. Digital technology has enabled people to see things quickly and sharply and for a nominal price. There is not one industry in the world that has not been affected by digital technology and the plastic surgery community has jumped on this development along time ago.
Now patients can see in vivid detail what a tummy truck procedure will look on them from the tranquility of their own home. They do not have to rely on picture books, long explanations from the surgeon, or brochures that leave so much to doubt and a large unknown. Digital pictures are a game changer and many people now know what they are signing up for.
Benefits
Tummy tuck is a major body contouring surgery procedure, and the decision to choose such a surgery is never an easy one. A new patient would like to be sure of how their abdominal profile will improve with this surgery, and whether it will meet their overall aesthetic needs and goals.
Some patients may need only a limited improvement in the lower abdomen, requiring only partial tummy tuck, while some others may need a full circumferential tummy tuck. In all such cases, the patient is better placed to make the right choices when they have access to tummy tuck before and after photos.
Having Realistic Expectations
Most satisfying results in a procedure such as tummy tuck are achieved when the patient has a positive state of mind, clear cosmetic goals, and realistic expectations. Therefore, an experienced cosmetic surgeon will usually prefer to show tummy tuck before and after photos at the very first appointment. After reviewing these photos, the patient will know what the procedure can or cannot do for them.
This mitigates the risk of any disappointment occurring for the patient at a later stage when it may be too late to reverse the corrections. Dr. Motykie receives patients from Beverly Hills, West Hollywood, Los Angeles, and nearby areas for tummy tuck surgery.
Photos on the Web
The plastic surgeon will have the option to provide tummy tuck before and after photos in a separate Photo Gallery section on their practice website. If the surgeon is active over social media, they may also consider providing these photos via popular photo sharing social networks such as Google+, Facebook, Pinterest, and Instagram.
Click here for Virtual Consultation
To see more services and treatments provided by Plastic Surgeon, Dr. Motykie in Beverly Hills | Los Angeles and his team please visit: