Dr. Gary Motykie ranks among the leading Beverly Hills plastic surgeons, who runs a state of the art practice in the area for a wide range of cosmetic and reconstructive surgery procedures. His website DrMotykie.com serves as a comprehensive online resources for a number of surgical procedures for the breast, body and face, as well as some of the latest non-surgical aesthetic procedures.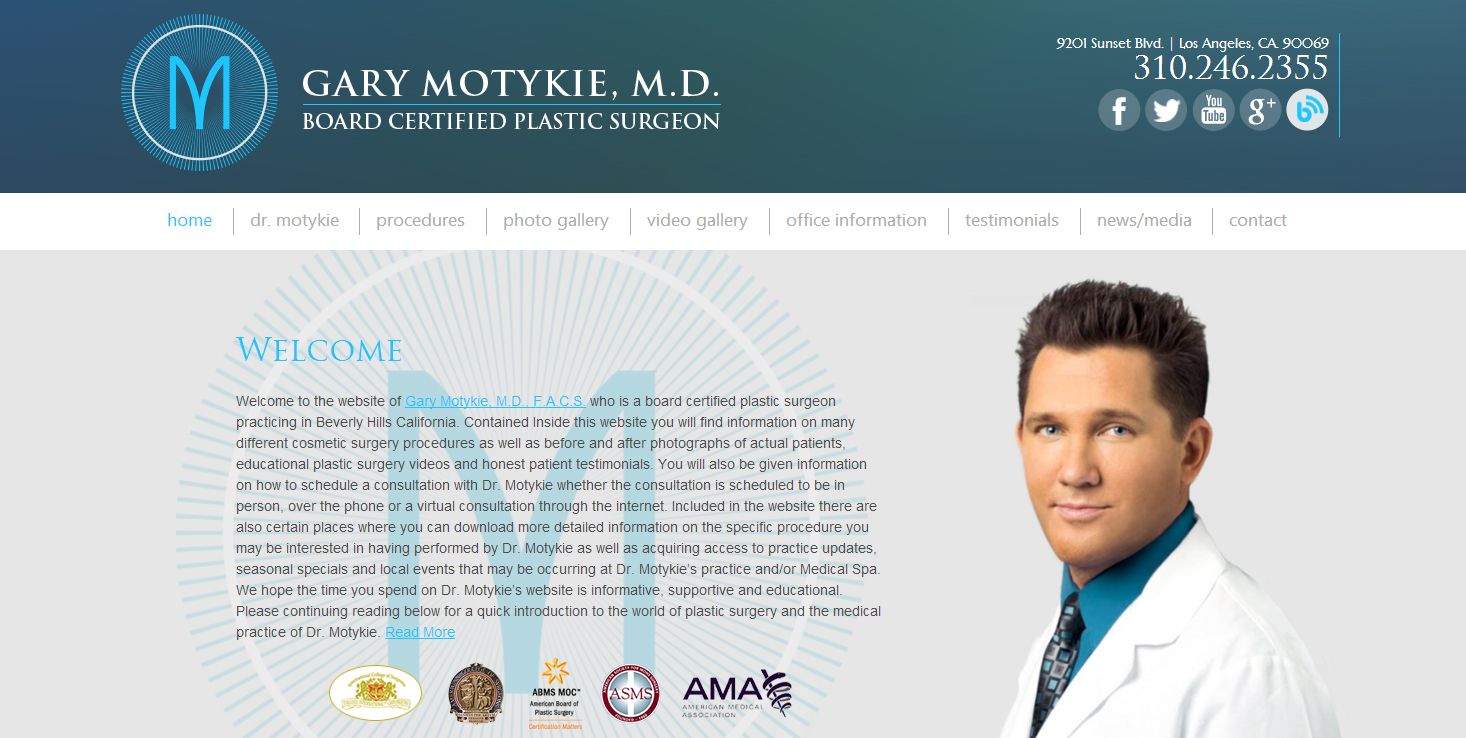 DrMotykie.com has an innovative web design provided by CreativeTake Medical, which is a boutique website design, development and marketing firm focusing exclusively on doctors in the United States. CreativeTakeMedical.com has made sure that the new website design for Dr. Motykie's practice is unique, engaging and highly user-friendly.
Dr. Motykie's Profile
DrMotykie.com has included detailed information about Dr. Motykie's educational background, training, experience and achievements. This information is divided into four sub-categories under the "About Dr. Motykie" section, including Philosophy, Bio, Blog, and Social Networking. New patients can familiarize themselves with Dr. Motykie through this section, and gain clear insights into his skills, experience, areas of expertise, and his commitment and passion for successful plastic surgery procedures for his patients.
Surgical and Non-surgical Procedures
CT Medical has provided maximum coverage for various procedures that are performed by Dr. Motykie at his practice. The website design has been created in a way that detailed information about various surgical procedures of the breast, body, and face is presented in an in-depth manner without causing clutter or confusion on the site. A separate section has been created for each procedure category, including a section for non-surgical and spa services.
Before and After Pictures and Testimonials
CreativeTake Medical has ensure that Dr. Motykie's website has the provision for a range of before and after pictures as well as videos about various plastic surgery procedures. Separate galleries for images and videos have been provided on the site. The image gallery is sub-divided for breast, body and face surgery procedures.
Patient testimonials also constitute an important part of DrMotykie.com. The new site design provides for testimonials under a separate section that is divided into three categories. The first category includes cards that old patients may send to Dr. Motykie, while the second category presents letters written by patients describing their treatment experiences at the practice. A video gallery including videos of previous patients talking about their opinions and experiences is also provided.
Other Sections
Additional sections regarding out of town consultations, online consultations and pricing are also a part of the DrMotykie.com site design. A "News and Media" section is also included with information on various TV programs and print publications where Dr. Motykie has been featured. A social networking section provides access to the site visitors to join the social media networks of Dr. Motykie.
CreativeTakeMedical.com, with experience of more than 15 years in website design, content development and search engine optimization for doctors, has provided an outstanding site design for DrMotykie.com. CreativeTake has ensured that site visitors can explore every part of the website seamlessly and have an efficient and meaningful experience on Dr. Motykie's website.
To see more services and treatments provided by Dr. Motykie and his team please visit: