Eyelid Surgeon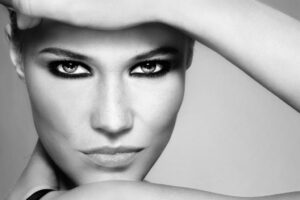 Eyelid surgery, medically known as blepharoplasty, is a cosmetic surgery procedure which involves the upper or lower eyelids, or both. This surgery seeks to enhance the function and aesthetics of the eyelids. Eyelids that droop can compromise facial appearance as well as cause obstruction in the vision in some cases.
Eyelid surgery is a sensitive procedure, and the key to safety and success in this procedure lies in choosing the best possible surgeon. Board certified plastic surgeon Dr. Gary Motykie provides eyelid surgery to patients in Beverly Hills, West Hollywood, Los Angeles, and other cities and suburbs in this region of The Golden State.
Review the Surgeon's Website
Reviewing a surgeon's website before consulting them for blepharoplasty is a good idea. The website is the primary source of information on the background and practice of the surgeon.
During the initial consultation, the patient should freely ask questions and express concerns regarding the surgeon's professional credentials and their practice. A committed surgeon will encourage patients to ask questions openly and explain the procedure to them in a detailed manner.
Why Select a Board Certified Plastic Surgeon?
The American Board of Plastic Surgery (ABPS) is the only board that the American Board of Medical Specialties recognizes.
It has rigorous selection criteria for awarding certification. Patients selecting an ABPS board-certified cosmetic surgeon are guaranteed that the surgeon would have had a minimum of 3 to 5 years of medical training with at least two years of training in plastic surgery exclusively.
Board certified plastic surgeons also pursue continuing training to remain abreast with the most innovative technologies in the area of cosmetic surgery. They also follow the latest safety protocols to provide their patients with safe and predictable outcomes in every procedure.
Hospital Privileges
Ideally, the surgeon should have operating privileges at one or more of the local hospitals or accredited surgical centers. In the exceptional case of an emergency, the patient will have quick access to a local hospital.
Personalized Care and Attention
Any plastic surgery symbolizes a personal journey for the patient. Therefore, the patient should select a surgeon who makes them feel comfortable while spending sufficient time with them to address their concerns and questions regarding the procedure.
Focus on Individualization
Dr. Motykie strongly believes that the best outcomes in surgery such as blepharoplasty can only be accomplished when the surgeon develops a customized approach. Each patient's body is different. The surgeon should recognize these differences and account for the patient's individual aesthetic goals while creating a surgical plan for eyelid surgery.
Balancing Art and Science
The reliable Dr. Motykie has specialized training and experience as well as the innate skills to beautifully balance art and science in every plastic surgery that he undertakes. This strategy allows him to generate outcomes that are desirable, youthful, predictable, and long-lasting.
Desirable Traits
A patient should seek the below-mentioned attributes, which Dr. Motykie has, when selecting a surgeon for a blepharoplasty procedure:
Inclination to help the patient understand various aspects of the surgery
Ability to provide individualized care and attention to each patient
Sensitivity to understand the personal cosmetic needs, desires, goals, and hopes of the patient
Possess in-depth knowledge of the facial and eye structure
Experienced plastic surgeon Dr. Gary Motykie receives patients from Beverly Hills, West Hollywood, Los Angeles, and other neighborhoods and suburbs in this part of SoCal for eyelid surgery.
Click here for Virtual Consultation
To see more services and treatments provided by Board Certified Plastic Surgeon, Dr. Motykie in Beverly Hills | Los Angeles | West Hollywood and his team please visit: