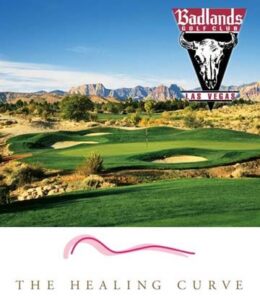 The Healing Curve, a non-profit initiative for breast cancer survivors, founded by board certified plastic surgeon, Dr. Gary Motykie, has announced the "2013 Healing Curve Golf Scramble" event. This charity golf tournament will be held on Monday, October 7th, 2013. The tournament will begin with a Shotgun start at 9:00 a.m. The location is Badlands Golf Club, 9119 Alta Dr., Las Vegas, NV 89145.
The event includes a range of attractions for the donor participants. They will receive gift cards and golf swag bags courtesy of The PGA Superstore and a Healing Curve polo shirt. The event also includes a dinner for the participants. Other attractions will be a full GPS cart with leaderboard, scramble format (best ball), skill contests such as long drives, closest to the pins, long putts, and silent auction items including sports memorabilia.
Participants can pay online for a minimum donation of $150 per golfer. Tax receipts will be provided. Space is limited, and participants must register before September 30th, 2013. When checking out, the participant should provide shirt size(s) and group name in special instructions.
About 'The Healing Curve'
Dr. Gary Motykie, a board certified Beverly Hills plastic surgeon, founded The Healing Curve nonprofit in 2008 to support women who have fought breast cancer successfully but are left with scars and breast tissue loss resulting from their mastectomy. Dr. Motykie was inspired to launch The Healing Curve when he received an overwhelming response to the episodes featuring him on E! Entertainment's hit show Dr. 90210 where he highlighted breast reconstruction for breast cancer survivors. Today, The Healing Curve provides funding and support for surgeries that may be necessary to correct deformities arising out of cancer, trauma, birth defects, or a previous unsuccessful surgery.
About Dr. Gary Motykie
Dr. Gary Motykie is the founder, president and chairman of the board of The Healing Curve. He believes that the real art of plastic surgery is discovered in giving patients back the hope that they had been robbed off due to a physical deformity. Dr. Motykie says: "I initially performed the first breasts cancer surgeries on Dr 90210 because I felt that people needed to see what hope and joy plastic surgery is capable of bringing to patients."
Following the show, Dr. Motykie was quick to realize that insurance providers often did not cover secondary surgeries addressing the aesthetic needs of cancer survivors, trauma victims and war veterans. This led to establishment of The Healing Curve, which now has a primary mission to provide reconstructive surgery to patients with physical deformities.
To see more services and treatments provided by Dr. Motykie and his team please visit: