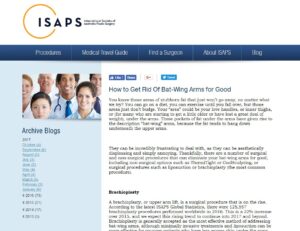 The International Society of Aesthetic Plastic Surgery writes:
You know those areas of stubborn fat that just won't go away, no matter what we try? You can go on a diet, you can exercise until you fall over, but those areas just don't budge. Your "area" could be your love handles, or inner thighs, or (for many who are starting to get a little older or have lost a great deal of weight), under the arms. These pockets of fat under the arms have given rise to the description "bat-wing" arms, because the fat tends to hang down underneath the upper arms.
Brachioplasty (Arm lift plastic surgery)
Liposuction
Cryolipolysis (Coolsculpting)
ThermiTight
Read more about each procedure.