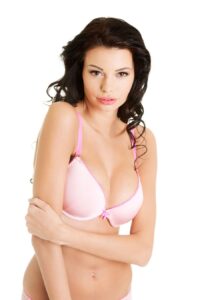 Breast augmentation or breast implant plastic surgery ranks among the most sought after aesthetic surgical procedures in the US today. Thousands of women receive this procedure every year with outstanding results, and enjoy an enhanced breast appearance, improved overall personality and greater self-esteem and confidence for years to come. The procedure involves surgical insertion of saline or silicone breast implants of a desired size to boost the breast appearance.
When breast augmentation surgery is performed by an appropriately qualified and experienced cosmetic surgeon, it will make the procedure safer and produce outcomes that are very close or exceeding the patient's aesthetic expectations. Dr. Gary Motykie is a board certified plastic surgeon providing breast implant and other surgeries to patients in Beverly Hills, West Hollywood, Los Angeles, and surrounding communities.
Customizing the Procedure
A plastic surgery procedure such as breast augmentation is highly customizable, and a skilful surgeon such as Dr. Motykie will tailor the procedure precisely in accordance with the unique needs of a patient. Careful choices must be made for each patient with regard to the breast implant type, size, shape, texture, and profile. It is also important to choose the optimal location and type of incisions and the placement position of implants to produce desirable results.
As an experienced cosmetic surgeon, Dr. Motykie closely engages with the patient during the initial consultation process to understand her innate aesthetic needs, and also carefully evaluates her breast anatomy and overall physiological profile. He will prepare a customized treatment plan based on these individual inputs. The results with such an approach are typically best matching to the patient's personal needs and aspirations. He receives patients from Beverly Hills, West Hollywood, Los Angeles, and nearby areas.
Academic Background
Dr. Motykie received an undergraduate degree in the challenging field of bio-med engineering, which provided him the opportunity to be involved in the development of artificial organs and limbs. He graduated with top honors, and went ahead to acquire a medical degree from the Northwestern University. Thereafter, he chose to specialize in the area of plastic surgery at the University of Texas. During this period, he performed surgeries at one of the leading cancer and burn reconstruction facilities.
In 2004, Dr. Motykie obtained an Advanced Cosmetic Surgery Fellowship from Beverly Hills. Thereafter, he has been providing innovative and advanced plastic surgery treatments for over 10 years. What distinguishes Dr. Motykie from most other surgeons is his holistic surgical approach that focuses as much on health and sustainability of results as on beauty and aesthetics.
Media Recognition
Dr. Motykie has been featured in articles in leading national publications, including the LA Times, the New York Times, and the Wall Street Journal. He has made appearances as a regular surgeon on major television shows such as the E! Channel's Dr. 90201, Celebrity Plastic Surgery, The Doctors, Marie Show, Dr. Phil, MTV, VH1, EXTRA, ACCESS Hollywood, Inside Edition and the Discovery Channel's Plastic Surgery: Before & After. He continues to share his expertise and knowledge through media engagements and other means.
To see more services and treatments provided by Plastic Surgeon, Dr. Motykie in Beverly Hills | Los Angeles and his team please visit: