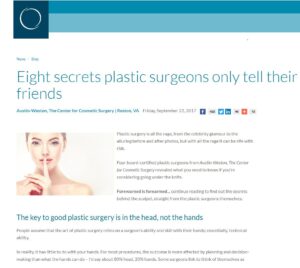 Plastic surgery is all the rage, from the celebrity glamour to the alluring before and after photos, but with all the rage it can be rife with risk.
Four board-certified plastic surgeons from Austin-Weston, The Center for Cosmetic Surgery revealed what you need to know if you're considering going under the knife.
Forewarned is forearmed… continue reading to find out the secrets behind the scalpel, straight from the plastic surgeons themselves.
The key to good plastic surgery is in the head, not the hands
People assume that the art of plastic surgery relies on a surgeon's ability and skill with their hands; essentially, technical ability. Read more.