Las Vegas' Mondays Dark to Host "Women Who Rock" Event
Benefiting Dr. Gary Motykie's, The Healing Curve Breast Reconstruction Charity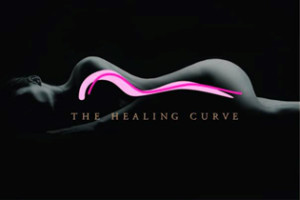 Las Vegas' Mondays Dark to Host "Women Who Rock" Event
Oct. 13 at the Hard Rock Hotel
Benefiting Dr. Gary Motykie's, The Healing Curve Breast Reconstruction Charity
Las Vegas, NV (Sept. 30, 2014) – On October 13 at 8:30 p.m. Vegas' newest tradition, "Monday's Dark" – Vegas' Night to Give Back – will continue with a night like no other, "Women Who Rock," to benefit this month's non-profit of choice, The Healing Curve Breast Cancer Charity at the Hard Rock Hotel & Casino Las Vegas.
All songs will be from performers who have rocked our world! The lineup includes: Gretchen Bonaduce, Savannah Smith, Jason Charles Miller, Rockie Brown, Justin Mortelliti, Valerie Ojeda, Becca Kotte, Jessenia Paz, Jamie Lynch, Lisa Marie Smith, Nieve Malandra, Cheryl Daro and Larry Atello. The Rock of Ages Vegas band Arsenal will be playing for invited performers. Tickets are $20.00 in advance and $30.00 at the door.
The Healing Curve charity was founded by Board-Certified Plastic Surgeon Gary Motykie as a non-profit initiative to help women who have beaten breast cancer but are left with breast deformity and scars as a result of the mastectomy that saved their lives.
"There are plenty of charities that are focused on 'finding the cure'," explains Dr. Motykie, "but we have found there is a real need for some patients to get back what breast cancer has stolen from them: their lives, their identity and their breasts."
Dr. Motykie's inspiration for starting the non-profit came after the flood of requests the doctor received as a result of two episodes of Dr. 90210 that showed him reconstructing the bodies – and positively affecting the lives – of breast cancer survivors. The scope of The Healing Curve has recently been expanded to help patients with birth defects, traumatic injuries from accidents, victims of poorly performed surgery and injured war veterans.
A range of fabulous Silent Auction items will invite your bids for this female empowering cause and there will be surprise celebrity guests in attendance. Mark your calendars now for October 13th to have fun and do good. The "Women Who Rock" event will be high-energy Vegas fun that you won't want to miss!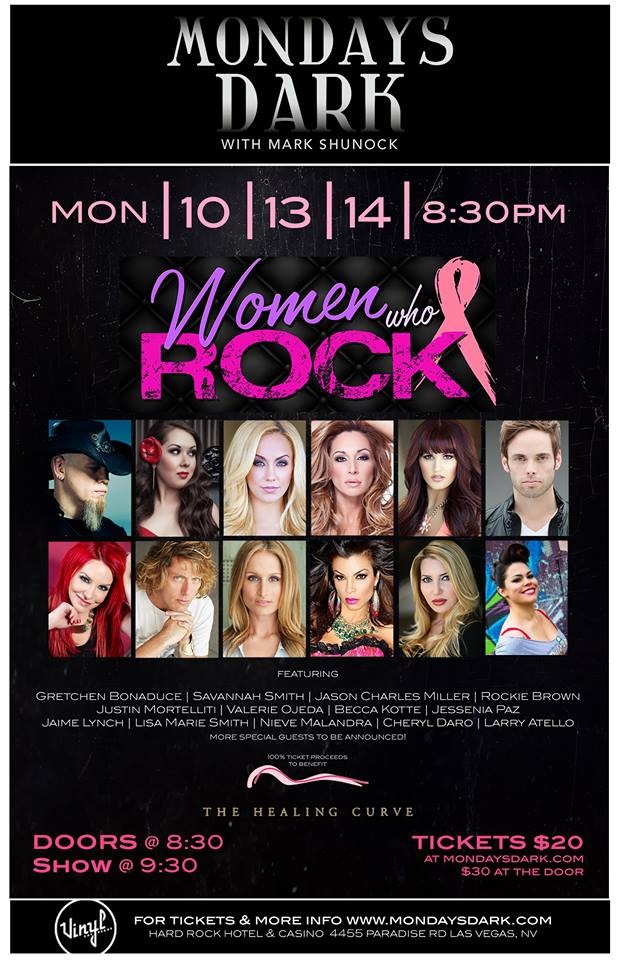 Monday's Dark – held on the third Monday night of each month – is a hot bed of entertainment, music and comedy for a cause gathering an eclectic cast of guests including stars from Hollywood and the Las Vegas Strip, musical acts, athletes and celebrity chefs for 90 minutes of chat, performances and laughter. On September 8th, Monday's Dark founder, Mark Shunock received THE ANGEL AWARD from Greenspun Media. Cultural Advocate/Entertainer of the Year for his monthly events that invite Las Vegas to give back!
You can pre-purchase $20 tickets can be purchased at http://www.axs.com/events/252669/mondays-dark-with-mark-shunock-tickets?skin=vinyl or buy $30 tickets at the door. Only 300 tickets available and they are almost sold out!
For more event information, please visit: http://mondaysdark.com/ or e-mail scotmckinley@gmail.com
For more charity information, please visit www.thehealingcurve.org or email info@thehealingcurve.org
"The meaning of life is to find your gift. The purpose of lift is to give it away." –Pablo Picasso
---
JOIN US FOR CIRCUIT II

OCTOBER 18TH
CIRCUIT II at Motykie Medspa

Saturday October 18th

from

2pm to 6pm

.
We have put together a comprehensive team of practitioners to help you achieve optimal wellness. Join us for an event that is sure to inspire you to be your own Wellness Warrior!
IV Therapy (Myers Cocktail) + Hyperbaric Oxygen Therapy + Skin Analysis+ Lymphatic Colon Therapy Consults + Spine/Posture Evaluation + Hair Mineral Analysis +
Mini Dental Exams + DNA Testing + Body Fat Analysis + Diet Evaluation + Hand Massage + Brow Shaping + Juice Tasting + Functional Apparel Trunk Show + Book Signing
Practitioners:
or call
310-276-6772
**First 20 to RSVP Receive a Goodie Bag**
Juice tasting by JUICE SERVED HERE