Dermabrasion vs. Microdermabrasion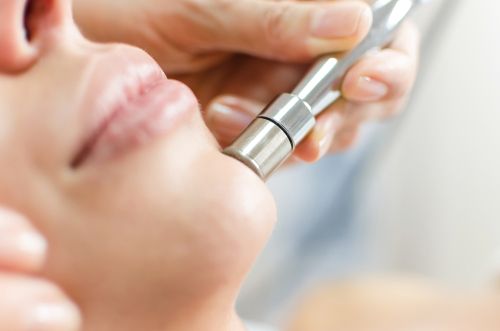 Dermabrasion involves using an abrasive to injure targeted areas on the skin in a controlled manner. The treatment works well in reversing the signs of aging and reducing scars. Your plastic surgeon will recommend dermabrasion mostly for the face. However, the treatment can be used on other body parts as well. It is important that you get this plastic surgery performed by trained and qualified professionals.
Microdermabrasion is a type of skin rejuvenation technique. It uses abrasions and vacuum suction to remove the most superficial layer of face or other areas. Anesthesia is not required in microdermabrasion unlike dermabrasion. The abrasive tool does not penetrate till deep skin layers making microdermabrasion a non-invasive and painless procedure.
Board certified plastic surgeon Dr. Gary Motykie provides dermabrasion and microdermabrasion treatments to patients in Beverly Hills, West Hollywood, Los Angeles, and surrounding locations.
Candidacy: Dermabrasion vs. Microdermabrasion
Dermabrasion involves deeper skin layers, which usually creates a wound. A new skin of better quality and consistency is formed when the wound heals. Your cosmetic surgeon will recommend this procedure when you want help with trauma or acne scars, tattoos, wrinkles, actinic keratosis (first phase of skin cancer), and red nose (rhinophyma).
Microdermabrasion only involves the topmost skin layer, called the stratum corneum. This layer is made of dead skin cells and is safe to remove in most people. Deeper skin layers are not touched making it ideal for all patients. However, people with skin diseases, such as acne should not get this procedure done.
What Does the Procedure Involve?
Dermabrasion needs local anesthesia since a wound is created. Plastic surgeon may offer to administer a sedative intravenously in some cases. The surgeon will apply an abrasive device to your skin once the skin is numb. This device comprises of a rotating wire wheel or brush encrusted with an abrasive screen or diamonds.
In microdermabrasion, the surgeon will spray an inert crystalline material on your skin. They will use a wand impregnated with crystals to forcefully rub the superficial skin layer. This exfoliation does not affect the deeper layers. You may notice mild swelling or inflammation, which is temporary.
Expectations after Dermabrasion and Microdermabrasion
Dermabrasion creates a wound, which needs to be kept clean and moist. Your cosmetic surgeon may call you in for gentle removal of debris and crust after 24 – 48 hours as part of the postoperative consultation. You will need to apply petroleum jelly to the wound for at least 10 days. Redness will reduce after 3 – 6 weeks.
There is no post-operative procedure in case of microdermabrasion since it does not result in a wound. You may experience mild swelling and redness though. There may be a slight decrease in wrinkles in the short term because of swelling.
Infections can occur as with any other plastic surgery, which are treated with antibiotics. Darkly pigmented patients may experience undesirable color. Hypertrophic scars or keloids may occur if you have a genetic predisposition.
Cosmetic surgeon Dr. Gary Motykie receives patients from Beverly Hills, West Hollywood, Los Angeles, and nearby areas for dermabrasion and microdermabrasion skin rejuvenation.
Contact Beverly Hills Board Certified Plastic Surgeon Dr. Gary Motykie to Schedule a Consultation
Click Here for Virtual Consultation
Click Here to Schedule a In Office Consultation
To see more services and treatments provided by Board Certified Plastic Surgeon, Dr. Motykie in Beverly Hills | Los Angeles | West Hollywood, CA and his team please visit: