Dermabrasion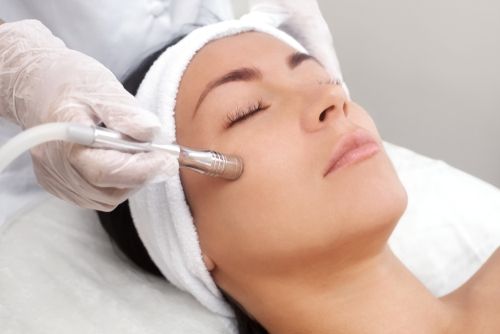 Dermabrasion is a safe and established procedure that involves removal of outer skin layers to treat aged skin and conspicuous scars. The procedure is can help you get rid of fine lines, acne scars, uneven skin texture, and sun damaged skin. The technique requires a special rotating instrument to be used on the face.
Your plastic surgeon may numb the area using a local anesthetic before starting to minimize discomfort. Dermabrasion is an outpatient treatment. You will be allowed to go home right after the procedure is done. Board certified plastic surgeon Dr. Gary Motykie provides dermabrasion treatment to patients in Beverly Hills, West Hollywood, Los Angeles, and surrounding communities.
What Does the Dermabrasion Procedure Involve?
Dermabrasion is usually performed under local anesthesia. However, your cosmetic surgeon may use general anesthesia or offer a sedative if you require extensive treatment. The surgeon's assistant will stretch your skin and hold it tight. The dermabrader device, which has a rough surface, will be moved by the expert on the stretched skin.
Small-tipped dermabraders are used on mouth corners and other narrow skin areas. Circular dermabraders are preferred by surgeons on larger skin patches. You may need multiple sessions for treating larger areas.
Once the procedure is complete, the surgeon will cover the treated area with a moist dressing. They will change the dressing the following day. This is when you would be taught to change your own dressings.
What Follows the Procedure?
Your plastic surgeon will give you detailed instructions on dressing the treated area. They will also recommend the skin care products you should use. You will notice pinkness on the treated area for a few weeks. Many patients experience swelling as well along with a burning or tingling sensation. It takes about 10 – 12 weeks for the pink color to completely fade away.
Advantages of Dermabrasion
Dermabrasion procedure works on similar principles as exfoliation. It actively removes the outer dead or damaged skin layer to reveal youthful, fresher looking skin below. The procedure allows you to enjoy a smoother and younger looking face. Dermabrasion is beneficial for the following conditions:
Sun damaged skin
Age spots
Wrinkled skin
Acne scars
Uneven skin tone
Surgery or injury induced scars
Pre-malignant skin patches
Red or thick skin on the nose (Rhinophyma)
There are several other techniques that can be used to treat these conditions apart from dermabrasion. Your cosmetic surgeon will determine which treatment will bring optimal results.
Ideal Candidacy for Dermabrasion
Dermabrasion is recommended for most people looking for a youthful and smoother skin. However, the procedure is not recommended for people with:
Inflammatory acne
Burn scars
Radiation burns
Repeated flare-ups of herpes
Naturally very dark skin tone
People who are on medications that may cause skin thinning as a side effect are also not suitable candidates for the procedure. Sometimes, dermabrasion is recommended for people looking to remove tattoos. However, laser treatment is proven to be faster and more effective. Cosmetic surgeon Dr. Gary Motykie receives patients from Beverly Hills, West Hollywood, Los Angeles, and nearby areas for dermabrasion skin rejuvenation.
Contact Beverly Hills Board Certified Plastic Surgeon Dr. Gary Motykie to Schedule a Consultation
Click Here for Virtual Consultation
Click Here to Schedule a In Office Consultation
To see more services and treatments provided by Board Certified Plastic Surgeon, Dr. Motykie in Beverly Hills | Los Angeles | West Hollywood, CA and his team please visit: