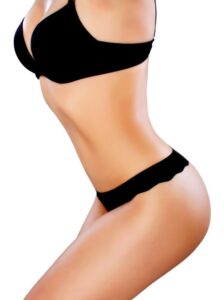 Tummy tuck, clinically known as abdominoplasty, is a major body contouring plastic surgery procedure designed to restore a flatter, firmer abdomen. The procedure should only be performed by a fully trained and experienced plastic surgeon in order to achieve safe, predictable, and aesthetically desirable outcomes.
Dr. Gary Motykie, a RealSelf "Top Doctor" and a board certified plastic surgeon, provides cutting edge surgical and non-surgical procedures, including tummy tuck. Dr. Motykie is a well-known cosmetic surgeon providing state of the art procedures for the breast, body, and face to patients in Beverly Hills, West Hollywood, Los Angeles, and surrounding communities.
Customization and Innovation
Dr. Motykie introduces customization and innovation to make complex and invasive plastic surgery procedures such as tummy tuck safer and more conservative, while maintaining the full aesthetic benefits. He will closely assess the patient's anatomical and aesthetic needs, and incorporate them into his tummy tuck surgical plan.
The size and location of incisions, the amount of fat and skin to be removed, the repositioning of the navel, the tightening of underlying muscles are some of the decisions that will be tailored in accordance with the unique situation of a patient. Dr. Motykie adopts innovative surgical techniques to make the surgery more targeted, less painful, and involving reduced risk and faster recovery.
Some patients may only need a limited tummy tuck in the lower abdominal area. In such cases, Dr. Motykie may recommend only partial abdominoplasty or mini tummy tuck. In other cases, a full tummy tuck may be advisable along with liposuction in the flanks and surrounding areas to achieve more comprehensive results. Patients can feel assured that Dr. Motykie will not adopt a cookie cutter approach, and will address their surgical needs individually.
Holistic Surgical Approach
Dr. Motyke is widely recognized as a cosmetic surgeon who will treat the whole body to achieve consummate goals of health, wellness, and long lasting aesthetic appeal rather than just address the specific tummy tuck without accounting for holistic factors. This approach enables him to produce more sustainable, healthier, and natural looking results.
The patient looks and feels more youthful because more significant tummy tuck is achieved from inside out without making the procedure overly aggressive. Dr. Motykie receives patients from Beverly Hills, West Hollywood, Los Angeles, and nearby areas for tummy tuck surgery.
Recognition
Dr. Motykie has been board certified by the prestigious American Board of Plastic Surgery. For his contributions to the progress of the field of cosmetic surgery, Dr. Motykie has earned numerous honors and accolades over the years. Some of the key awards include:
America's Top Plastic Surgeons, Consumer Research Council of America: 2006 to 2012
Patient's Choice Award, American Registry: 2009
American Medical Association, Physician's Recognition Award, 2009, 2005
Marquis Who's Who in Science and Engineering, 2011-12
Celebrate Life Foundation, Physician Recognition Award, 2007
Cambridge, Who's Who Among Executives and Professionals in Healthcare, "Honors Edition" 2007 to 2012
Dr. Motykie has made appearances in popular television talk shows and has been featured in top national publications.
Click here for Virtual Consultation
To see more services and treatments provided by Plastic Surgeon, Dr. Motykie in Beverly Hills | Los Angeles and his team please visit: