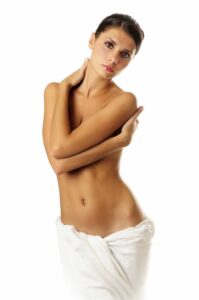 Liposuction currently ranks as the most popular plastic surgery procedure in the US. Best outcomes with liposuction can be achieved when the surgeon chooses the most appropriate, cutting edge technique, and customizes the surgery according to the patient's unique needs.
Dr. Gary Motykie is a well-known cosmetic surgeon providing state of the art plastic and reconstructive procedures, including liposuction. He is recognized as a "Top Doctor" on RealSelf, the premier website for cosmetic surgeons and patients. Patients in Beverly Hills, West Hollywood, Los Angeles, and surrounding communities have an opportunity to receive liposuction from Dr. Motykie.
Established Expertise
Sometimes the primary liposuction procedure may not yield satisfactory results, and the patient may require a revision surgery, which is typically more complicated. Dr. Motykie's expertise in plastic surgery procedures can be estimated from the fact that almost 50 percent of the surgeries he performs are revision procedures where the original surgery was performed elsewhere.
Dr. Motykie combines the highest principles of science and art to produce liposuction results that are safe, health promoting, sustainable in the long run, while meeting the patient's aesthetic aspirations in every way. He focuses on achieve natural looking outcomes in every liposuction procedure. Dr. Motykie enjoys a very patient satisfaction rate for liposuction and various other procedures.
Safe and Aesthetically Appealing Liposuction
Dr. Motykie is a leading cosmetic surgeon for liposuction because of his focus on achieving comprehensive outcomes in every liposuction surgery. He will guide the patient at the very outset that liposuction should not be viewed as a solution for obesity or a replacement for a balanced diet and exercise. His goal is to make patients appear healthy and fit with liposuction, and not unnaturally skinny or thin.
Dr. Motykie's mantra for liposuction is: "Keep the curves and get rid of the bulges." This ensures sustainable and health supporting results, which can be enjoyed for an extended time period. Dr. Motykie receives patients from Beverly Hills, West Hollywood, Los Angeles, and nearby areas for liposuction surgery.
Recognition
Board certified plastic surgeon Dr. Motykie has been working for more than a decade in this field, and has made significant contributions to expand the scope of plastic surgery. He has been recognized with several awards and honors over the years, which include:
America's Top Plastic Surgeon, Consumer Research Council of America: 2006 to 2012
Patient's Choice Award, American Registry: 2009
American Medical Association, Physician's Recognition Award, 2009, 2005
Marquis Who's Who in Science and Engineering, 2011-12
Celebrate Life Foundation, Physician Recognition Award, 2007
Cambridge, Who's Who Among Executives and Professionals in Healthcare, "Honors Edition" 2007 to 2012
Memberships
Dr. Motykie has been an active member of several pre-eminent professional organizations at different times, which include:
Tau Beta Pi, National Engineering Honors Society
American Medical Association (AMA)
Plastic Surgery Research Council (PSRC)
American Society of Plastic Surgeons Candidate (ASPS)
American College of Surgeons (ACS)
American Society of Aesthetic Plastic Surgery (ASAPS)
International College of Surgeons, United States Section
Dr. Motykie is also the founder of a nonprofit called The Healing Curve, which helps less privileged patients in need of complex reconstructive or revision surgeries.
Click here for Virtual Consultation
To see more services and treatments provided by Plastic Surgeon, Dr. Motykie in Beverly Hills | Los Angeles and his team please visit: