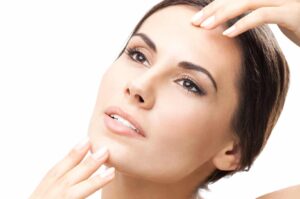 Facial balancing is a primary concern of every patient seeking cosmetic surgery. In fact, many patients get facial augmentation for making their features balanced. There are three primary procedures in facial profile balancing – rhinoplasty, chin augmentation, and cheek augmentation. An experienced surgeon ensures that the procedures provide results that are consistent and natural.
The cosmetic facial augmentation should look balanced with the rest of the face and neck profile. Board certified plastic surgeon Dr. Gary Motykie provides surgical facial profile balancing to patients in Beverly Hills, West Hollywood, Los Angeles, and surrounding locations.
Rhinoplasty
The nose is the most prominent facial feature. It has a dramatic effect on the way your facial profile appears. The slightest concern can throw your features off proportion. A large bump, crooked tilt, wide bridge, or a drooping tip can cause your face to appear skewed. The smallest subtle changes can help the way you appear and how you feel about your appearance.
Rhinoplasty is a highly specialized plastic surgery procedure that addresses the shape, size, and symmetry of the nose to enhance facial balance. Rhinoplasty is a popular procedure and has been around for decades. It can be useful for improving the appearance and function of the nose. These are a few benefits of rhinoplasty in terms of facial profile balancing:
Enhances facial harmony

Improves the size, shape, and contours of the nose

Provides definition to the nose

Boosts self-confidence
Chin Augmentation & Mentoplasty
The chin may seem like it plays a supporting role to the way your face appears. The truth is most patients require chin augmentation more than rhinoplasty for making their facial features to appear proportionate. A too small chin may make your face appear weak, while an overly prominent chin may make you the face look too long.
Genioplasty and chin augmentation are cosmetic surgery procedures designed for enhancing the contours, structure and harmony between the chin and the face. Mentoplasty can restore facial harmony and definition by inserting an implant around the jawbone. The right procedure will be decided by your surgeon after discussing and understanding your needs. These are a few things chin augmentation and mentoplasty can achieve:
Improves facial profile

Corrects droopy, small, recessed, or prominent chin

Enhances jawline definition

Provides a lift to the neck

Reduces the prominence of nose

Reduces loose skin beneath the chin

Minimizes the appearance of jowls or double chin

Supports the facial skin if there is a decrease in collagen

Provides a more youthful look

Balances facial proportion
Cheek Augmentation with Implants
Cheek augmentation with implants can do a lot to restoring facial profile balance. It can help you regain youthful volume and make your face appear less tired, gaunt, and older. You can attain a refreshed appearance with cheek implants and better facial proportion.
Cheek augmentation with implants has the following benefits:
Increase fullness in the cheeks

Makes you appear healthier and younger

Improve facial profile

Provides a sculpted and toned appearance

Improves facial profile
Cosmetic surgeon Dr. Gary Motykie receives patients from Beverly Hills, West Hollywood, Los Angeles, and nearby areas for surgical facial profile balancing.
Contact Beverly Hills Board Certified Plastic Surgeon Dr. Gary Motykie to Schedule a Consultation
Click Here for Virtual Consultation
Click Here to Schedule a In Office Consultation
To see more services and treatments provided by Board Certified Plastic Surgeon, Dr. Motykie in Beverly Hills | Los Angeles | West Hollywood, CA and his team please visit: