Dr. Motykie (aka Dr. 90210)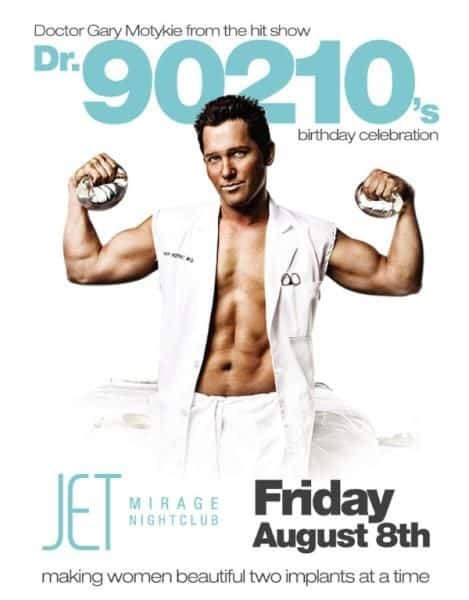 Beverly Hills-based plastic surgeon, Dr. Gary Motykie, is an expert in body contouring, breast surgery, rhinoplasty, and facial rejuvenation procedures as well as various other types of cosmetic surgery.
Apart from his excellent work within his practice, Dr. Motykie has been a part of various humanitarian projects. He was recently honored with the Physician Recognition Award, from the Celebrate Life Foundation, for enabling breast cancer survivors live life after cancer.
Board certified plastic surgeon Dr. Gary Motykie provides procedures for the body, breast and face to patients in Beverly Hills, West Hollywood, Los Angeles, and surrounding locations.
Professional Credentials
Dr. Motykie received training in plastic surgery at the University of Texas. Here, he performed surgery at one of the most renowned cancer and burn reconstruction facilities worldwide.
At this time, Dr. Motykie was also able to travel and work with some of the leading plastic surgeons in Miami.
Throughout this period, Dr. Motykie continues to present his work on a national level. He also authored various scientific papers and journal articles on numerous cosmetic surgery topics.
Dr. Motykie acquired an undergraduate degree in Bio-Medical Engineering which involved work in the field of designing prosthetic limbs and artificial organs from Northwestern University.
He received his doctorate of medicine from Northwestern University as well. Following his training in plastic surgery at the University of Texas, he pursued an Advanced Cosmetic Surgery Fellowship in Beverly Hills.
Additional Accomplishments
The astute Dr. Motykie has also been involved in personal fitness training and competitive bodybuilding for the past 18 years. He is dedicated to daily exercise and weight training and enjoys discovering new ways to improve his physique and health.
Dr. Motykie has also recently established The Healing Curve. This is a non-profit initiative to provide reconstructive procedures to women who have battled and defeated cancer but are left with breast tissue loss and scars due to their treatment.
The Healing Curve also offers help to survivors who have had reconstructive surgeries in the past that were not performed properly.
Dr. Motykie Featured on Popular TV Show Dr. 90210
Dr. 90210 is a US reality TV series that focuses on plastic surgery in the upscale LA suburb of Beverly Hills, California.
The series started in 2004. The name of the series is based on the zip code of the core of Beverly Hill, which most viewers are familiar with due to the former popular TV series Beverly Hills, 90210.
While the show is produced by E!, it is broadcast by many other basic cable networks, such as the Style Network. The duration of each episode is around one hour.
Dr. 90210 shows interviews with patients, semi-graphic visuals of the surgery, and before and after footage of the patients. In addition, the show also features the lives of the surgeons in its lineup.
The Wikipedia page related to the show says the following of Dr. Gary Motykie: "The show's lineup has expanded to include practices of doctors such as that of Dr. Gary Motykie."
At MyFaceMyBody Awards 2018, Dr. Gary Motykie was voted "Plastic Surgeon of the Year."
Dr. Gary Motykie has received the MyFaceMyBody's prestigious "Best Male Plastic Surgeon of the Year!" award for 2018. He said that he felt honored to get this recognition despite many worthy competitors. However, his real satisfaction and pride come from the award that he has accomplished on the basis of patient votes.
Key highlights of Dr. Motykie's professional profile are as follows:
Multi-Specialty, Board Certified Plastic Surgeon
TV Personality & International Educator
Creator of Motykie Med Spa & The Healing Curve Foundation
Award-Winning Health, Beauty & Wellness Innovator
RealSelf Top Doctor
Winner of "America's Top Plastic Surgeons" Award, Consumer Research Council of America: 2006 to 2012
Cosmetic surgeon Dr. Motykie has also been featured in articles in the LA Times, Wall Street Journal, and New York Times. He receives patients from Beverly Hills, West Hollywood, Los Angeles, and nearby areas for aesthetic as well as reconstructive surgeries.
Click here for Virtual Consultation
To see more services and treatments provided by Board Certified Plastic Surgeon, Dr. Motykie in Beverly Hills | Los Angeles | West Hollywood and his team please visit: