Out-of-Town Patients Visiting Beverly Hills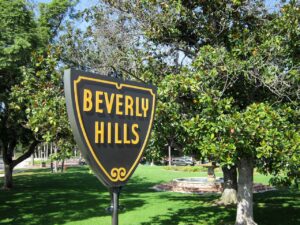 Many patients now choose to travel for their cosmetic treatments in order to receive the best possible care and enjoy a quiet and anonymous recovery period. No longer are patients limited to their own local area when looking for the most trusted and experienced doctors to meet their cosmetic needs.
As a board certified plastic surgeon in Beverly Hills, Dr. Gary Motykie works with patients from all over the world who want expert care in a private, convenient setting. Dr. Motykie's staff is dedicated to making the process positive for our out-of-town patients, and we will work with you every step of the way to ensure your travels and surgical experience are safe, successful, and convenient.
If this is your first time in Beverly Hills, here is a little information about our city:
Airport
Los Angeles International Airport (LAX) is the nearest airport to Beverly Hills. Distance from LAX to Beverly Hills is a little over nine miles.
7 Airports for Private Jets Around Los Angeles:
Van Nuys Airport
Bob Hope Airport
Santa Monica Municipal Airport
Los Angeles International Airport
Long Beach Airport
LA/Ontario International Airport
John Wayne Airport
Hotels
The Four Seasons Beverly Hills
With a convenient central location, the Four Seasons Beverly Hills is one of the most popular hotels in the neighborhood. It is a short walk away from the popular Melrose Avenue for shopping.
The Beverly Hills Hotel
Located up on the hill, it probably the most iconic hotel in the area. This hotel is what was at the center of it all when the city of Beverly Hills was built. Staying here is living history in itself.
The Peninsula Beverly Hills
Another popular posh spot in town is The Peninsula, complete with its sun-drenched outdoor terrace and one of the most celebrated day spas in the city of Beverly Hills.
Popular Destinations in the City
Rodeo Drive
Just as you cannot come back from Egypt without visiting the pyramids of Giza (though visiting Egypt now may be risky but this is another topic), one can safely say that you cannot go back home from Los Angeles without visiting the Rodeo Drive. This shopping strip is perennially buzzing with out-of-towners looking to spot a celebrity or to indulge in some luxury shopping at some of its super-fashionable stores.
Saban Theater
This is a stunning art deco theatre with a stunning interior. There are a range of shows on offer, from jazz to pop and even comedy shows. While planning your visit, you may check out the current schedule to see what's on and book yourself a ticket.
Greystone Mansion
This is a spectacular old tudor mansion with exquisite English gardens to explore. The mansion has served as the location for many films and is a popular stop for a few hours among tourists.
Virginia Robinson Gardens
Consider visiting this beautiful botanical garden, which is set against the backdrop of a 20th Century mansion. Tours are by appointment only, so make sure to book in advance.
Restaurants
The Bazaar
The Bazaar restaurant inside SLS Beverly Hills hotel continues to be one the most popular places to eat. If you plan to dine here on the weekends, it is a good idea to reserve a table in advance.
Culina Breakfast
Even if you don't stay at the Four Seasons Beverly Hills, you should try to check out the breakfast at Culina inside the hotel. Acai bowls, a make-it-yourself juice menu and healthy egg dishes are some of the popular choices you will find here.
Da Pasquale Italian
For Italian food in Los Angeles, Da Pasquale is one of the best. If you like authentic homestyle Italian cooking in a casual but nice setting, this is your first stop shop.
Il Cielo
Another nice place for Italian food in Beverly Hills with a more refined dining approach is Il Cielo. This place is popular among celebrities.
Click Here to See the Best Restaurants in Beverly Hills
Click here for Virtual Consultation
To see more services and treatments provided by Board Certified Plastic Surgeon, Dr. Motykie in Beverly Hills | Los Angeles | West Hollywood and his team please visit: