Breast reconstruction is a major plastic surgery procedure that is designed to restore breast appearance following a cancer related breast removal surgery.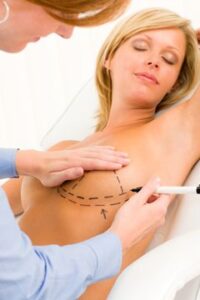 During the initial consultation for this procedure, the surgeon will explain its potential benefits and limitations, and help the patient make an informed choice.
Some surgeons may also provide breast reconstruction surgery before and after photographs during the initial consultation. The surgeon will try to ensure that the patient has a clear idea about the effectiveness of the procedure, and makes a realistic decision.
Reliable cosmetic surgeon Dr. Gary Motykie provides breast reconstruction to patients in Beverly Hills, West Hollywood, Los Angeles, and surrounding communities and towns in this region of the southwest.
What are Breast Reconstruction Before and After Images?
Before and after images in case of breast reconstruction surgery refer to a set of pictures belonging to a previous patient who has undergone the same surgery with successful results.
The set includes images taken prior to the surgery and after the surgery at a time when the post-operative swelling and bruising are resolved and full effects of the surgery are established.
The surgeon will take care to ensure that the photos are obtained with the consent of the patient and presented before new patients in a discreet way.
The patient's identity is usually kept undisclosed as per the standard protocol. The only purpose of the surgeon here is to use breast reconstruction before and after photos as a visual aid to help new patients make the right decisions.
Advantages
Breasts are a vital part of a woman's anatomy and enhance her feminine figure. If a woman has to undergone reconstruction of one or both breasts, it is important that she has a fair understanding of how her reconstructed breast will appear after the surgery, and whether the procedure can meet her personal aesthetic needs.
If breast reconstruction plastic surgery will involve breast implants, the patient should be able to determine along with the surgeon which size of implants may be more appropriate for her. In each case, the patient will be better placed to make the correct decisions when she has access to breast reconstruction before and after photos.
Being open is the key and the plastic surgery industry has accepted this. There are many other industries that have the same philosophy. In this day and age, the public expects to know certain things. And in the era of digital technology and the Internet, there is no reason to keep vital information from the people.
Pictures illustrating this procedure are available on this fantastic website. Now anyone can determine how this procedure will look on them by simply comparing and contrasting. A potential patient can have lots of key questions answered for them before even attending a consultation.
Reasonable Expectations
In any major cosmetic procedure, the best satisfaction levels for a patient are typically achieved when she has a positive mindset, clear aesthetic priorities and reasonable expectations.
Therefore, proven surgeons sometimes choose to present breast reconstruction surgery before and after photos at the first appointment. Once the patient knows clearly what the procedure can or cannot do for her, she can make a more confident decision.
This effort mitigates the risk of any disappointment occurring for the patient at a later stage when it may be difficult to reverse the procedure.
Transparency
The surgeon would also have the option to present breast reconstruction surgery before and after pictures on their practice website for free access to all which Dr. Motykie does. There are salient and clear pictures of related surgeries of this kind on his website. Transparency is paramount and building trust with a website is the goal here.
Now patients can see the pictures online and apply what they see to their own body. There are not too many surprises anymore. Doubt is pretty much pushed down the gutter. Patients can see these pictures from anywhere they can access the Internet and if they choose to sign up for breast reconstruction surgery they have a strong comprehension on what this entails.
Successful cosmetic surgeon Dr. Gary Motykie receives patients from Beverly Hills, West Hollywood, Los Angeles, and nearby areas for breast reconstruction.
Click here for Virtual Consultation
To see more services and treatments provided by Board Certified Plastic Surgeon, Dr. Motykie in Beverly Hills | Los Angeles | West Hollywood and his team please visit: