Otoplasty (Ear Surgery) Before and After Plastic Surgery Pictures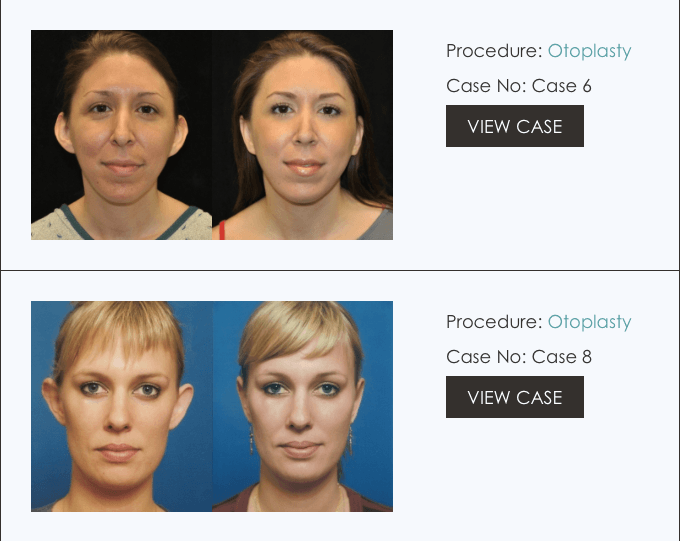 Otoplasty or ear reshaping surgery is commonly performed on children, but adults may also choose this procedure. Candidates with oddly shaped, oversized, or protruding ears may go for this surgery to improve the appearance of ears and bring them in balance with the rest of the facial features.
The cosmetic surgeon will explain different aspects of otoplasty at the time of the initial consultation in order to help the patient make an informed choice. The surgeon may also make use of otoplasty before and after photographs to help the patient understand the potential benefits of this surgery. Board certified plastic surgeon Dr. Gary Motykie provides a range of facial procedures through his surgery practice as well as medical spa. Dr. Motykie receives patients from Beverly Hills, West Hollywood, Los Angeles, and surrounding communities.
What are Otoplasty Before and After Images?
Otoplasty 'before and after images' refer to a pair or group of pictures belonging to an earlier patient who has received the same surgery successfully. The images include pictures taken before the surgery and after the surgery at a time when full effects of otoplasty have been established. The surgeon will take these pictures with the consent of the patient, and show them to new patients in a discreet manner.
The surgeon's only goal is to use these pictures to educate new patients about different aspects of otoplasty and help them make an informed decision. Otoplasty before and after photographs serve as an effective visual aid to explain to the patients what the procedure can or cannot do for them. Patients in Beverly Hills, West Hollywood, Los Angeles, and nearby locations have an opportunity to receive surgical and non-surgical procedures at Dr. Motykie's plastic surgery practice as well as medspa.
Benefits
When a new patient visits the surgeon's office to seek otoplasty, they may not necessarily know how exactly the procedure may help fulfill their unique aesthetic needs. Some patients may only need a minor corrective surgery, while others may need an elaborate otoplasty in conjunction with another facial procedure to meet their aesthetic goals.
For a patient, it can be a difficult situation to choose the right options and make the best decision. This is where the surgeon can use otoplasty before and after photos effectively to help them visualize the results and make appropriate choices.
Being Realistic
One of the pre-requisites to success in any aesthetic surgical or non-surgical procedure is that the patient should have a positive frame of mind, clear aesthetic priorities and realistic expectations. Such patients will typically achieve the highest satisfaction from the results.
With otooplasty before and after photos, the patient will know clearly what to expect and what not to expect from the surgery. This will mitigate the chances of any misunderstanding or disappointment occurring at a later stage.
Online Photos
The surgeon may also decide to provide otoplasty before and after photos on their practice website. Anyone can access these pictures freely online and review the potential results even before they are ready to visit the surgeon's office for a consultation.
To see more services and treatments provided by Plastic Surgeon, Dr. Motykie in Beverly Hills | Los Angeles | West Hollywood and his team please visit: