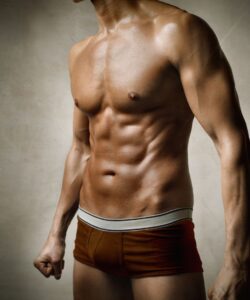 Conversations around body image and physical aesthetic have traditionally involved women. However, a new American Society of Plastic Surgeons (ASPS) study indicates that now even males are actively participating in this discussion on undergoing cosmetic surgery procedures to enhance their appearance.
Successful board certified plastic surgeon Dr. Gary Motykie provides a wide range of aesthetic surgical and non-surgical procedures to patients in Beverly Hills, West Hollywood, Los Angeles, and surrounding communities.
Men are Increasingly Seeking Plastic Surgery
Men are seeking advice from plastic surgeons to enhance their appearance and boost their self-image. This can be ascertained from the fact that in 2017, men received more than 1.3 million cosmetic procedures.
An increasing number of men are seeking plastic surgeons to have honest discussions on their cosmetic concerns and areas of insecurities.
Surgeons report that they often notice relief on the patient's face when they explain the multiple surgical and nonsurgical procedures that are available to them to alleviate their aesthetic concerns. Many men feel less self-conscious about their appearance with a cosmetic surgery procedure on a single body area that they are unhappy about.
Some surgeons witness a number of younger men who are seeking procedures for body contouring. Statistics indicate that cosmetic procedures such as abdominoplasty surgery (up 12 percent) and liposuction (up 23 percent) are becoming increasingly sought-after by men in the past five years. During this period, there has also been a 30 percent increase in male breast reduction surgeries.
Case Study
A 20-year old male patient found it impossible to eliminate stubborn fatty deposits in the chest region following substantial weight gain due to his asthma medication.
The cosmetic surgeon diagnosed the patient with gynecomastia, which involves swelling of the male breast tissue due to hormonal fluctuations. The patient received male breast reduction surgery to remove the fat deposits.
The surgeon attests to a dramatic improvement in the patient's self-confidence along with high satisfaction levels after the procedure. The patient felt more confident and was motivated to exercise regularly and manage his long-term weight loss. According to the patient, his weight-loss initiatives would not have been likely without plastic surgery to kick-start the process.
Older Men Choose Less Invasive Procedures
Younger men are more interested in cosmetic procedures for their bodies while older men prefer less invasive procedures to mitigate aging signs. Over 100,000 men received dermal filler injections in the year 2017 which is almost twice the number of men who received these in 2000. In the same period, Botox popularity has gone up four times in men.
"Executive edge" is the term men used for wanting to appear more youthful to compete with the younger generation of employees at their workplace. Dr. Jeffrey Janis, President of the American Society of Plastic Surgeons (ASPS), elaborates that usually, men seek cosmetic procedures to appear as young as they feel from within. An expert plastic surgeon can assist them in achieving this goal.
Moreover, Dr. Janis emphasizes the importance of identifying a well-qualified and experienced plastic surgeon to ensure safety protocols and ethical practices. In addition, the surgeon should be able to provide patients with various treatment options to address the unique needs of every patient.
Dependable plastic surgeon Dr. Gary Motykie receives patients from Beverly Hills, West Hollywood, Los Angeles, and other cities and suburbs in this area of the state for aesthetic procedures.
Click here for Virtual Consultation
To see more services and treatments provided by Board Certified Plastic Surgeon, Dr. Motykie in Beverly Hills | Los Angeles | West Hollywood and his team please visit: