Renuva Injections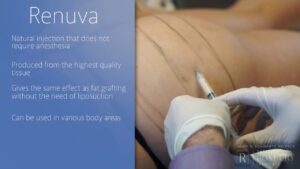 Renuva Adipose Matrix is one of the latest and highly promising treatments for skin rejuvenation for patients who want to avoid plastic surgery. The procedure works similar to a dermal filler injection, and can produce very effective skin enhancement and volumizing outcomes in the treated areas.
Board certified plastic surgeon Dr. Gary Motykie is introducing Renuva adipose tissue filler injectable treatment to his practice for suitable candidates. The hardworking and committed Dr. Motykie provides this treatment to patients in Beverly Hills, West Hollywood, Los Angeles, and surrounding locations.
In-Office Treatment
Renuva Adipose Matrix skin treatment is performed in an office setting on an outpatient basis. Unlike surgery, the procedure will involve no general anesthesia, cuts or incisions. The procedure can be completed in less than 30 minutes, depending on the location and the size of the treatment sites.
At the practice of the sagacious and terrific Dr. Motykie, an advanced and innovative procedure such as Renuva tissue filler injections will be performed under his personal guidance and supervision. Dr. Motykie ensures that the same best medical practices and quality standards are followed for any non-surgical procedure as he applies for plastic surgery procedures.
Procedure
The treatment provider will first mark the targeted area where the Renuva injectable procedure is to be performed. Once the patient is ready, they will inject a local anesthetic to numb the area of treatment. This will ensure that the patient stays comfortable through the injection process.
In any case, Renuva adipose tissue filler can be performed using very thin needles to insert the allograft fat in the deeper skin layers in the affected area. A single injection area is typically treated with 3cc of fat volume to achieve the best results. This may involve two to three small injections to complete the treatment.
If multiple treatment areas are involved, the total number of injections will increase. All areas are usually treated in a single injection session. Once the injection procedure is over, the provider will clean and sterilize the injection sites to minimize the risk of infection.
The patient may be required to spend a few minutes in the recovery area of the surgeon's office before they can go home. Some patients may choose to combine Renuva skin rejuvenation treatment with other cosmetic procedures, which would require additional time at the surgeon's office.
No Downtime
One of the key advantages with a non-surgical Renuva skin care procedure is that it involves no specific downtime or recovery in most cases. Patients can simply return to their normal routine or go back to work after the injectable treatment. Working people, in fact, may even schedule their Renuva injection appointment during their lunch hour from work, and simply return to their workplace after the procedure.
Patients should be prepared to receive two to three injection treatments spread over several weeks in order to achieve their cosmetic goals. Mild redness and swelling in the injection sites may occur in some cases, which will resolve quickly. Accomplished and pleasant plastic surgeon Dr. Motykie receives patients from Beverly Hills, West Hollywood, Los Angeles, and other suburbs and towns in this area of the country for Renuva skin rejuvenation filler treatment.
Click here for Virtual Consultation
To see more services and treatments provided by Plastic Surgeon, Dr. Motykie in Beverly Hills | Los Angeles and his team please visit: