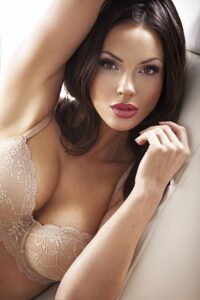 Blepharoplasty or eyelid lift plastic surgery is a procedure designed to rejuvenate the eye appearance and make the face appear more youthful and attractive. The procedure will be customized according to the patient's facial anatomy and specific aesthetic needs.
During the treatment planning process, the surgeon will engage closely with the patient to discuss all aspects of the procedure.
The surgeon may make use of bleopharoplasty before and after photographs during the initial consultation process. The first aim of a responsible surgeon will be to ensure that patient is able to make an informed decision. Pragmatic cosmetic surgeon Dr. Gary Motykie provides blepharoplasty to patients in Beverly Hills, West Hollywood, Los Angeles, and other towns and neighborhoods in this section of the country.
What are Eyelid Surgery Before and After Pictures?
Before and after pictures in case of a blepharoplasty or eyelid lift plastic surgery procedure refer to a pair or group of images pertaining to a previous patient who has received the same treatment with satisfactory results. The images include pictures taken prior to the procedure and after the procedure at a time when the post-operative bruising, swelling and redness has subsided and full effects of the surgery are established.
The surgeon will take care to obtain the prior consent of the patient for these photographs, and will present them before new patients in an appropriate manner. The patient's identity may be kept undisclosed as per the standard norm.
The surgeon's purpose here is to educate new patients about the potential effectiveness of an eyelid surgery and explain what it can or cannot do for them. Blepharoplasty 'before and after' photos serve as a useful visual tool in this process.
This is made possible via digital technology. This is basically the unsung dynamo in this concept. Digital technology has altered the destiny of so many industries it cannot be counted and the plastic surgery industry is certainly one of them. Now patients can see these amazing pictures from anywhere; not one phone call has to be made for a patient or customer to make a vital decision.
A patient can see these pictures using their digital device/s. This means that they will be more informed and can apply what they see on their screen to their own face. Making this bleopharoplasty decision can be made while someone is lying in their bed or sitting at a fast food restaurant after they ate a salad or a burger, for example.
The patient has so much power now. No longer do patients have to rely on dated brochures with vague pictures to come to a conclusion. The awesome website of Dr. Motykie answers so many questions for so many patients.
Benefits
When a new patient is considering eyelid surgery, they may have concerns about how the procedure will impact their facial appearance and whether it can meet their personal aesthetic goals. Some patients may only need limited upper or lower eyelid lift, while others may need a more comprehensive combination of the two.
In some cases, the surgeon may recommend another surgical or non-invasive treatment in conjunction with blepharoplasty (such as a brow lift or Botox). For a new patient, it can be difficult to make the most appropriate choices on their own. This is where the surgeon may utilize eyelid surgery before and after photos.
Being Realistic
It is critical in any aesthetic procedure that the patient knows exactly what the procedure can or cannot do for them. This way the patient is likely to form accurate and realistic expectations from the results. The chances of any misunderstanding or disappointment occurring at a later stage will be reduced.
This is possible with the help of blepharoplasty before and after photos. At the very outset, the patient will have a fair idea of what kind of improvements may be possible with this treatment as already discussed. Patient satisfaction levels are typically higher in cases where they have access to before and after photos and again, digital technology makes this possible and this clinic's altruistic motivation to be transparent.
Considerate cosmetic surgeon Dr. Gary Motykie receives patients from Beverly Hills, West Hollywood, Los Angeles, and nearby areas in this part of the nation for eyelid surgery.
Click here for Virtual Consultation
To see more services and treatments provided by Board Certified Plastic Surgeon, Dr. Motykie in Beverly Hills | Los Angeles | West Hollywood and his team please visit: